The other night whilst out grocery shopping, I decided to treat myself to some ice cream. I didn't want to buy just any old flavor but I also didn't want to pay $49.00 for a pint of Ben & Jerry's. So after scanning the aisle of options I settled on 1 3/4 quarts of Breyers
Double Churned!
,
Extra Creamy!!
, Chocolate Caramel Brownie.
Mmmmm, mmmmmm. You can just imagine the rich chocolaty goodness. The smooth, creamy texture. The gooey cara-
What?
Oh. Yes. You heard me correctly.
One and three fouths of a quart.
No. Not a half gallon.
Yes, I checked. It is one and three fourths
not
two quarts.
No, really. Look for yourself. Look in the lower right hand corner.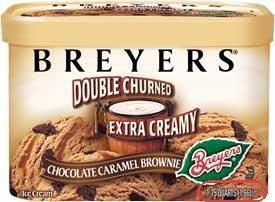 See that?
And it's not only Breyers my dear readers. It's most - if not all - of the ice cream companies.
What was that? The prices have gone up?
Yeah, well. Sure I was outraged at first. Actually this is something I noticed quite a while ago so I've had time to recover. However, if you are an ice cream afficionado and this is all news to you, you might just want to stop here and not read this post any further. Because the other information I am about to impart is going to be devastating.
Ok, you were warned.
So, I like ice cream.
A lot.
I always have. Chocolate has always been one of my most favorites and the more chocolate the better. Double Chocolate? Yum. Chocolate Fudge Brownie? Yes! Yes! Double Chocolate Fudge Brownie with a sliced banana and some hot fudge sauce? Well you can just cremate the body 'cause I've died and gone to heaven.
Yes, I know. Too much of good thing and blah, blah, blah. Whatever.
But seriously, I have been trying to rein in the frozen dairy monster within albeit half-heartedly. See, I used to eat a bowl of ice cream. And I mean a
bowl.
Like a cereal bowl. Heaped.
Oh, it wasn't every
day
or anything like that but even I figured I should not go to such excess.
So I cut back. Now I eat my ice cream out of a cup. A cup that is about one third the size of the bowl. Ok, maybe one half the size. Who's counting other than my bathroom scale and the overtaxed elastic on my undies? Still, it's a start, yes?
Anyway, tonight I thought to myself "Self, how's about we get a cup o' that ice cream and sit down and read some blogs or something?" And my self said "Sounds like a plan."
So I got my cup and spoon and took the ice cream out of the freezer and opened it up. Now, bear in mind, the ice cream has been in the house for a day or so, so I already had some. But when I opened the lid and started to fill my cup I thought "Hmm. One and three fourths of a quart certainly won't last very long - even if I am only eating it by the cup as opposed to by the bowl."
I thought, once again, about how dismayed I was when I discovered the size reduction and price increase and, and, and, well how
dare
they anyway? I mean, this is ice cream we're talking about. It's not right to go messing with people's lives.
Then it occured to me to check the serving size because well, hey, it's a capitalist nation and they have every right to make money on ice cream as long as people are willing to pay. I mean, look at what people pay for Ben & Jerry's! But they pay it. Why? Because it's damn good, that's why. And sometimes you don't mind paying for quality. And maybe that's what is going on here - it might be a smaller container but it's 6 or 7, ok, more like 8 or 9, servings of good quality ice cream and, really, in the end...
WHAT?????!!!!!
What the...?
Fourteen?
FOURTEEN?????????!!!!!!
I double checked. No, that's not 1.4 that's FOURTEEN SERVINGS! Now how in the hell...
Oh.
Oh my.
Oh dear, oh dear, oh dear.
That's just not right. That's...that's...
so wrong.
Apparently the ice cream industry feels that....get this.... a serving of ice cream is
ONE HALF CUP.
Yeah, you heard me. One. Half. Of a cup.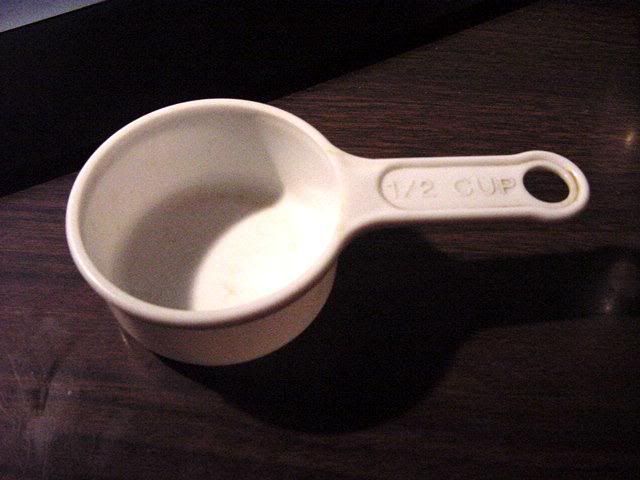 Let me give a little more perspective on this. This is one half cup along with one
teaspoonful
(heaping) of ice cream.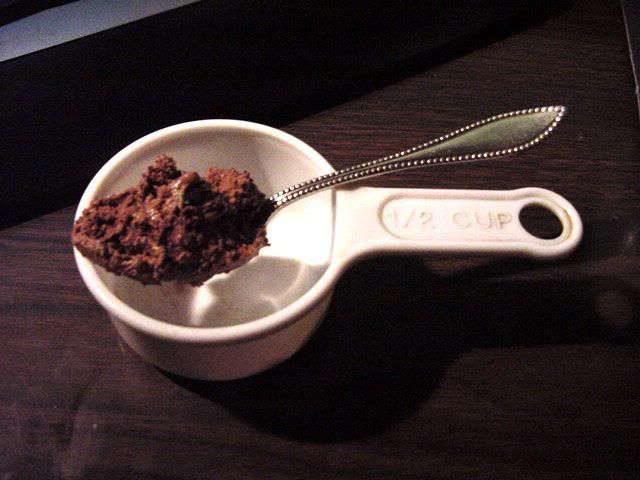 So, according to my calculations based on my somewhate-questionable-but-so-far-so-good-spatial-analysis-skills, that's like 4 or 5 tesspoons full and BAM! you're done. Cut! No more ice cream for you!
So, in protest, I am going back to the bowl.