Where our motto is "Ummm...what am I again?"
So, I think you are familiar with the chicken. If not, you can read a bit about her arrival
here
. When she first arrived, she was pretty sure she was a cat. She ate cat food, she hung out with the cats. Now, however, she is a goat. At some point after we got
Rhubarb
, she decided she was no longer a cat but, in fact, a goat. She now eats the goat food, grazes with them when they are out of the pen, and sleeps with them and night. The only essential difference between her and the goats is that, when they all come out of the goat house in the morning, there is sometimes an egg in her spot.
Here at Identity Crisis Acres, we feel it is important that each creature explore all the possibilities of livestock lifestyles. Take time to explore you!
I also think I might have mentioned that we are in the process of getting two more goats.
I'm having a little trouble on the angora end but we did have success with the boer - or
beer!
- goat. Hubby and I went to the farm last Saturday and picked him out. The only problem with that was that they have an awful lot of goats right now. Like hundreds. And they need to move them out. So they could only hold ours for us for a week.
This would be the week hubby worked every day. It would also be the very same week that I took son to look at a college. The long and short of it is that we didn't really have a place to put him.
Now, you might say "Well, just put him in with the other goats." And that, eventually is what will happen. However, we aren't quite ready to breed
just yet
so we need to keep him away from the girls. Or, probably more appropriately, keep the girls away from him.
I had to work on goat pick-up day so the task was left to hubby. We decided that the new goat could just go in the garden for now since it is a nice, big, fenced in area. Hubby went to the farm to pick him up - in the station wagon, hee hee - and deposited him in the garden. All was well.
Was
being the key word.
At about 3 o'clock, I finally wrapped things up at work and I was on my way to see my children in their first track meet of the year. As I was putting the last of my items in the car, my cell phone rang. It was hubby.
Hubby: Hey.
Me: Hi. What's up?
Hubby: Our new goat?
Me: Yeah...?
Hubby: It's done gone and runned off.
Me: CRAP!
So, instead of seeing my children in their first track meet of the year, I was instead canvassing the neighborhood for the errant goat. We both drove around for a while with no luck, checking back at the house every once in a while. Eventually, I passed hubby on my way out of the driveway as he was on his way in. I told him I let the girls out in hopes the new goat will see them and just hang out with them.
Then I headed down the road and made a turn on to a small road with a few houses. The last house on the road is the one that borders our property to the east. It was sold about 1 1/2 years ago to a youngish couple but I never really met them as of yet. Not because I didn't want to be social or anything - it's more a case of just not having, or making, the time. I was just going to go past this house and continue on to the dirt road that goes on to our property when I spied one of the neighbors in front of the garage. I stopped, sighed, and turned the car toward the garage.
I could tell he was on his cell phone. He hung up as I got out of the car.
Me: Hi! I'm your neighbor. Did you...
Neighbor: Hey! Hi! Are you missing a goat?
Me:...yes.
And that is how I finally got to talk to my new neighbor. And then hubby showed up and we really had a grand ol' time chasing the goat around his yard.
We still weren't having any luck so I went back to the house to get one of the girls in hopes of luring new goat home. While I was away, the goat trotted off through the woods towards the highway.
Now, imagine yourself and your spouse (who happen to be other neighbors of ours who live a little bit further down the road) driving along, minding your own business when, from out of seemingly nowhere, you see my husband leap off a cliff from the woods onto the road below on the heels of a goat.
I wish I could have seen it. Hubby said he was running kind of sideways and backwards trying to hold up his hands to stop traffic when he realized the people in the one car were our neighbors laughing hysterically.
He eventually was able to run down the goat, catch it, and carry it up through the woods where I met him with the car.
We brought the runaway home and, having nowhere else, put him in the kennel.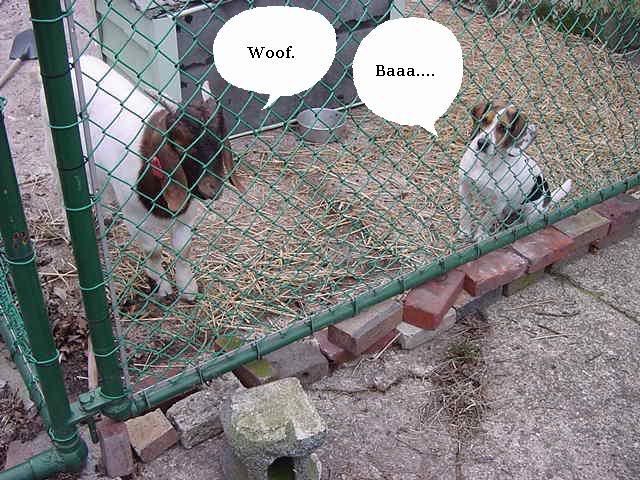 At Identity Crisis Acres, we offer a wide variety of living arrangement to suit your individual needs. Not happy with your current roommate? We'll find a perfect match for you.
So, you see, things are a bit odd here. Now, you might be thinking "Well, at least things worked out ok with your
horse
." And, for the most part, you would be right.
Remember the horse? How's about a little picture to refresh your memory?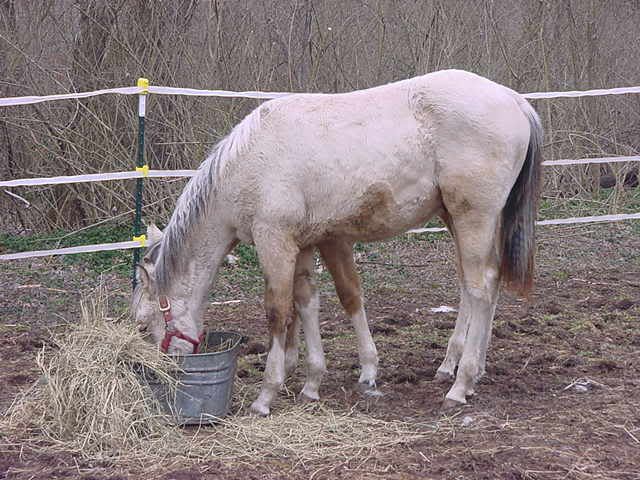 Isn't he getting big? Isn't he cute? Doesn't he have a lot of legs?
...
So, as always, here's the story.
When we initially picked out the horse, it was pretty much by a photo on-line. Fine. The horse shows up and all is good. I was so happy with him, I put his baby picture - the very first one I ever saw of him - on my computer as the desktop background.
Then, I took some more photos. I would open up the photos on the computer and compare them to the baby picture, oohing and aahhing at how big he was getting.
And then...
Once in a while I would wonder "Gee, he has a bigger white sock now than he did when he was a baby. Unless..... Nah." That little feeling was always there but, really, what were the odds that I wouldn't have the right horse?
Then, about a month ago, I got a call from the rescue coordinator.
Me: Hey! How are you? We LOVE our horse!
RC: Oh. I have to talk to you. I don't know how to say this...
Me: What?
RC: You have the wrong horse.
So, apparently the odds are pretty good.
As it turned out, there were three colts that were almost identical. The one we got had the right ID tag but it was the wrong horse.
So, what other choice did we have?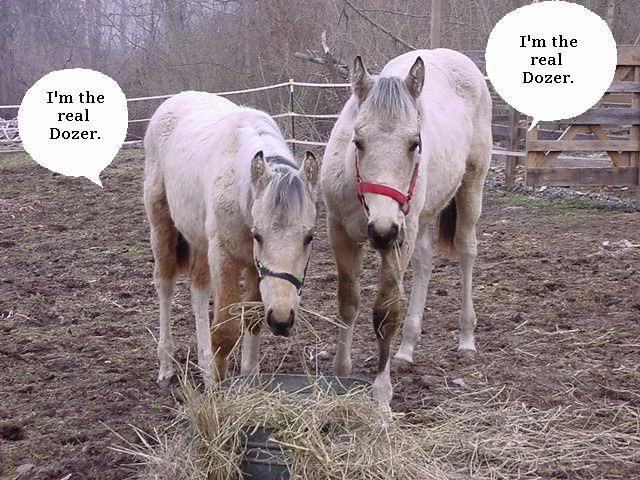 Where you never quite know who you are or what the hell you should be doing.