The Blessed Event has occurred!!!!
Yes - today our goat, Gyra, finally had her babies! Cigars all around!
I checked on her last night and she seemed pretty restless so I set up the watch, going out to check on her in 2 hour intervals. Hubby had work today so he went right to bed. By 4am I had enough and figured nothing much was going to change between then and 7am when I had to get up for church.
In the morning I woke up and got dressed for chuch and peeked in on her - still nothing going on.
After church and breakfast with the in-laws, I came home and started about my daily chores. I did the spine-squeeze thing when I went in to feed her and I could wrap my fingers right around the bone.
Hmmm...I better keep an eye on this.
I was going to go drive by a house for someone out of the area and snap some pictures to email so I went back in and got changed into not-farm clothes. On my way out to the car I stopped and peeked in on her one more time. And this (oh, remember when I said I would warn the faint of heart ... or, I guess, queazy of stomach ... before I post graphic pictures of the births? Well, consider yoursleves warned) is what I saw...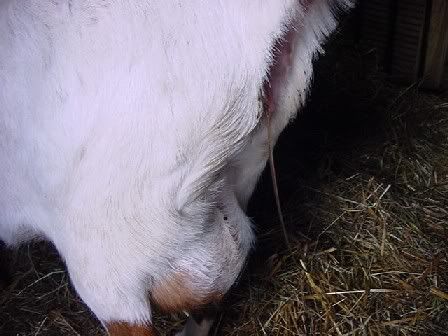 That would be a big string of mucus.
That's one of those things I read about in the book that means "Get ready, goat farmer, because the baby is on its way."
So, I turned around and dashed back into the house, kicking off my shoes, tossing gloves, as I ran upstairs to get changed out of not-farm clothes and back into farm clothes. Judging by what I just saw, things might get messy.
I ran back downstairs, pulled my boots on, located the kidding kit that I carefully put together over the previous weeks, located my "Raising Meat Goats for Profit" book, grabbed the camera, and dashed back outside. I peeked in on her again to see this ...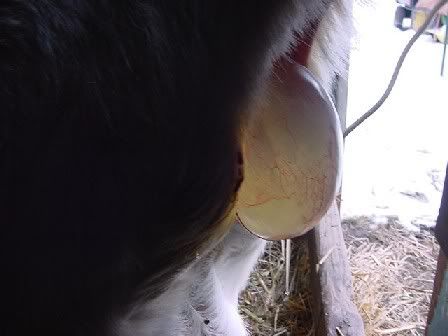 ... and was all "AHHHH! Hold on! I don't have everything yet!"
I dropped all the stuff outside the Birthing Room and ran back to the house.
For what?
What?
WHAT???

Why did I come back in here???!

Oh, yeah. Newspapers. The book says to lay out newspapers so the baby can just plop onto them and then you can pull it around to the mother's head so she can lick it off.
Back out to the birthing room.
By now she was starting to push in a getting-down-to-businees sort of way. I donned my latex gloves and opened the book.
... you will soon see a bag of water protruding from the vulva ...Yeah, yeah, yeah. What next? What am I supposed to look for? Oh crap. What do I do??!!

Skip ahead, skip ahead...... you will soon see two little hooves and a nose ...
Check the goat again...
Oh God! There's the nose! Are there two littl hooves? Wait ... Oh crap. Get out of the corner. I have to see if there are two little hooves!
At this point Gyra laid down with her butt wedged into the corner of the Birthing Room. I figured I'd just let her go for a little bit and see how things went. Just to be on the safe side, I jumped ahead to the part of the book that tells you what to do if there are difficulties with the birth. After a little while I checked on her again and saw that she wasn't really making much progress. Upon closer inspection, I noticed that only one hoof was visible with the nose.
AAAAHHHH! ONLY ONE HOOF!!!

Check the book, check the book...If you only have one hoof and a nose presenting, then the other hoof might be just a little bit back (just put your finger in a little ways...

Oh. Oh. My finger. In the goat. Oh. Ok.

...where the hoof should be and feel for it). In which case everything will probably go just fine, or you may need to pull on it a little to get it together with the rest of the program.

Oh. Fine. Here we go.
So, yeah, I put my finger in the goat and found the other hoof.
I rock.
After that, the baby just kind of plopped out on the next push.
But not onto the newspapers as planned. Because Gyra started eating the newspapers as soon as I laid them down. She obviously didn't read the book.
So I grabbed a feedbag and put the little goat on it. I sucked out his little nose and mouth with a bulb syringe, and pulled him around to mom.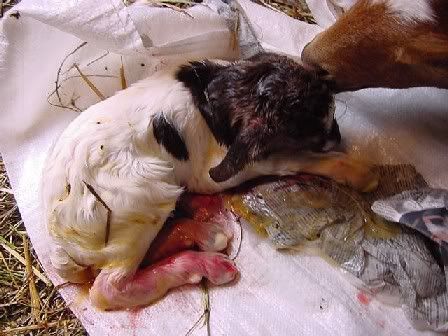 The book said to let her lick the baby off for a bit and then dip the end of the umbilical cord and the hoof tips in iodine.
Check.
It then said to wrap the baby in clean towel and put it butt first into a bucket so mom can still lick it, baby will stay put, and the next kid can be born - if there is a next kid. The kid in the bucket will usually just fall asleep.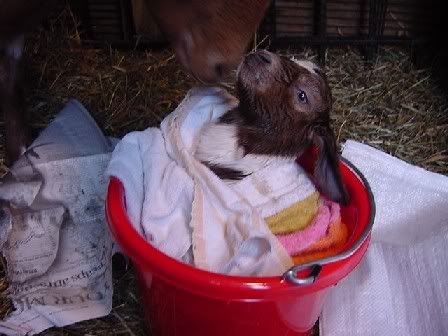 Baby obviously didn't read the book either as sleeping was not on the agenda.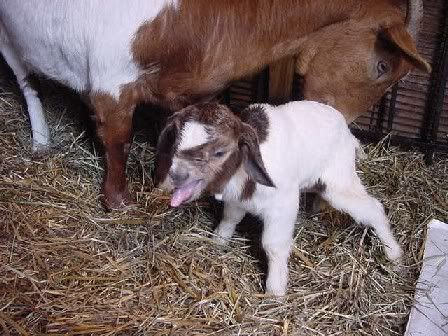 If there is no other kid, the next thing to watch for is the afterbirth.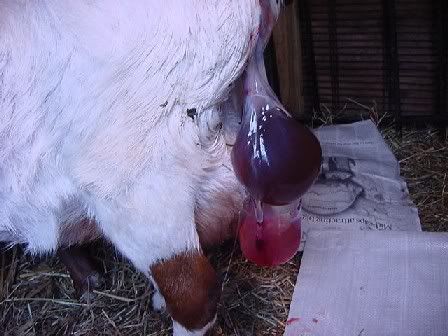 Ok...so...what is that? Afterbirth? Another kid?...
After about 40 minutes of watching mom walk around with this ... bag of water hanging out her, she finally started to push again and, what do you know, a nose and two hooves this time!
Plop!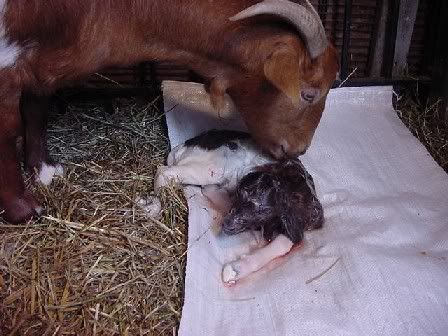 Baby number two!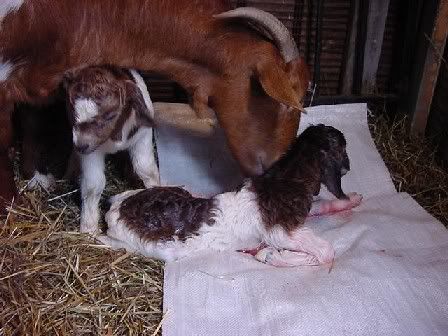 So we have a boy...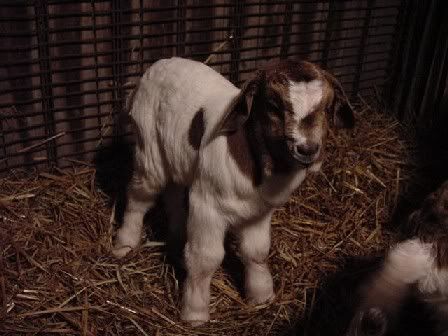 ... and a girl.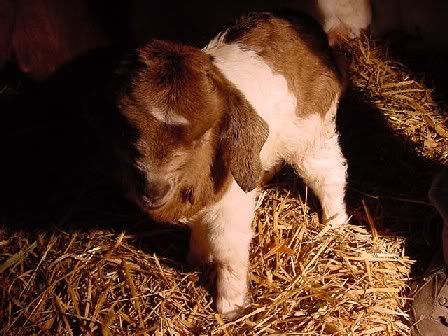 I called hubby to give him the good news. We are bonafide! Woo-hoo!
Much thanks to Gail Bowman who is the author of "Raising Meat Goats for Profit" (from where I took the excerpts), for writing such a good, instructive book. This book is like my little bible right now.
The only thing I would add to this wonderful bit of writing is a warning to someone assisting in a goat birth that, once the babies are all dried off and on their feet, they are so darn cute you might just squeeze them to death.
I stayed to make sure the babies started nursing and to be sure that there weren't any more on the way. Mom delivered the afterbirth and promptly ate it.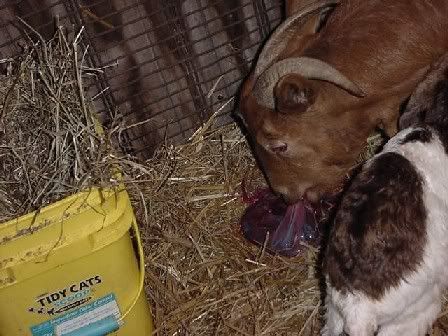 Live Action Shot of Mother Eating Placenta!
Hee.
So the waiting is over. We had our very first livestock birth and are feeling all kinds of proud. Mom and babies have settled in nicely, the weather is cooperating, all is right with the world.