Alright. So it seems as though the only thing I write about any more is goats.
And while that might be understandable as they are pretty much consuming my life right now, I still feel like ... well, enough goats for now.
I've been reading some other blogs where people are suffering from a bit of writer's block lately. It must be going around. Not unlike the sinus, chest cold thing I am currentlly not acknowledging.
I know I've never really tackled Big Important topics on my blog like Politics, Religion, Dancing With the Stars, etc. I tend to keep it a bit lighter and uncontroversial. Mainly because I get enough daily debate from my hubby and children - I do not nee to get into cyber arguments.
But I also never intended for it to become a Goat Blog either.
So, today, I am not going to post about goats.
Rather, I am going to bring some attention to two of my pet causes.
1. Responsible eating
As you might have guessed from the beef post, I am a big fan of grass fed meat - beef, pork, poultry, etc. Pasture raised meat is so much better for you, the environment and the animal. And, to be quite honest, my priorities are exactly not in that order.
In the interest of sparing the easily queased, I won't post any pictures. But google "factory farm" or "slaughterhouse practices" and go exploring a little bit. See what you find. It isn't pretty - I assure you.
But what's a conscientious omnivore to do?
I'm so glad you asked! You can start .
here
at the eatwild web site. If you check the links on the left hand side, there is a page you can go to where you can look for farmers in your area that raise livestock on pasture. And if there aren't any in your area, many will ship meat to you! Usually, the more you buy the better the price, so check with your family, friends, neighbors, etc. It really can be an economical alternative.
2. Animal testing
Take a look at this.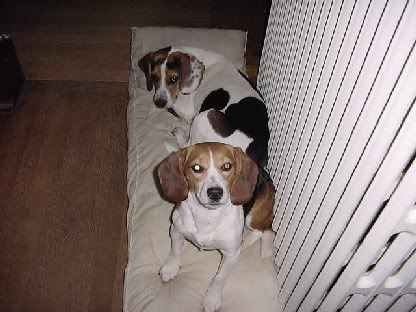 That would be Ruby (sitting) and Jasper (in repose).
Ruby came into our family via the internet. A little while back, Harold at
Another Monkey
, posted on his blog about some beagles in need of a home. He was made aware of the situation by a friend of his. As it turned out, there were a group of beagles at Cornell University that were slated for The Big Sleep if homes were not found.
I emailed Harold and he put me in touch with the friend who then put me in touch with the woman in charge of the beagles. I told her that we would take one and made arrangements to pick one up.
When we arrived, we were shown the beagles that were ready for placement. There were 4 girls. I would have taken them all. As it was, they had other people coming to adopt and assured me that they all had homes to go to.
I don't know what kind of testing was done on Ruby. People sometimes ask me "Aren't you worried about the tests they did?"
No. I am not.
We brought her home and introduced her to Jasper and Malachi (who was still alive at the time). She got to walk inn grass for the first time in her life. We let her run loose in our yard - something she never ever experienced.
It was a little sad at first, because all she ever knew was the chain link kennel with the concrete floor. But, over time, she learned how to be a regular dog.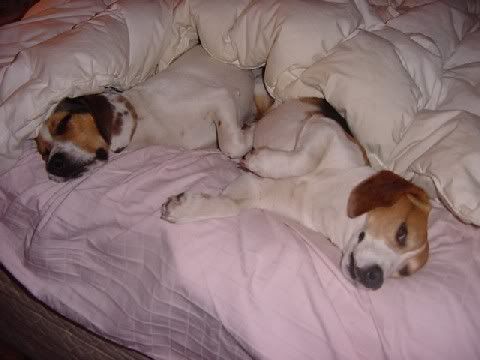 Whatever that is.
After we got Ruby, I started to do a little more research on animal testing. Again, I won't post photos because they are really awful and you can easily find them yourself if you want to look into it. But, people, please look into it.
What I found were pictures of dogs with cones strapped onto their faces, being forced to inhale cigarette smoke for hours at a time. I found pictures of cats with electrodes implanted into their heads. I found pictures of rabbits in cages with cosmetics being forced into their eyes.
And then I found the pictures of their little bodies in trash bins.
I can almost understand the medical industry doing animal testing. Almost.
But I cannot understand the need for animal testing in cosmetics. And cigarettes. And paint. And cleaners. And so on and so on.
Especially when there are companies out there that can bring their product to market without animal testing.
And so, again, what to do?
Well, I came across leapingbunny.org which is an organization that gives consumers a way to find products that aren't tested on animals. Go to their
shopping guide
and search for the products you need.
Also, with many cosmetics, you can check right on the back of the package to see if the company tests on animals or not. One warning, some may state "Finished product is not tested on animals". While it's a start, the Leaping Bunny certified products do not use animal testing in any phase of the production.
While I was at the grocery store recently, I was checking the labels on hair care items. I was pleasantly surprised to find that Alberto V05 shampoo and conditioner is not tested on animals. And it's cheap! Also, Nexxus does not do animal testing. So I may no have that sleek and shiny Pantene hair. Oh well. It's really not all that important to me in the grand scheme of things.
Okay, that's enough for today. I don't know how to cleverly wrap this all up into a whiz-bang ending. I'm just trying to point out some of the things we take completely for granted, some of the creatures that needlessly suffer because we just aren't paying attention. It doen't have to be this way