So, last night my hubby and I decided to watch another one of our movies from the verylowpricedmovie bin. I think it was called "Creature". It doesn't matter because the title of the movie is irrelevant. What is important here is the music played during the...um...I don't really know what you call it. It's the part of the movie in the beginning when there is music playing and the name of the video or dvd company flies around on the screen in some kooky graphic design.
Anyway...
The music is playing and the name is flying and I say "What is that music from?" because I swear it was something I know. It really was vexing me. My hubby, on the other hand, was none to concerned with the music and was anxiously waiting for me to start the movie. I couldn't...I just couldn't. I HAD to know where I heard that song before!
Me again: What
is
that music from?
Hubby: Would you just start the movie? You'll think of it later.
Me: No, I won't be able to concentrate. Just wait a minute...
Him: Come
on
...
Me: Just hold on a minute. God! I know this from somewhere!
Him: It's the song from Greatest American Hero.
Silence.
Greatest American Hero.
Where the hell did that come from?
Greatest American Hero.
It was like having your psychiatrist pull you out of hypnosis with a memory from waaaaaay in your past.
Greatest American Hero.
For those of you who may now know what it is...was...it was a show from the early 80's in which a guy finds a suit, sans operating directions, and dons it to become a kooky superhero. Here's a little visual to help you out.
Oddly enough, when I was searching for an image to post, I also found a picture of Homestarrunner as Greatest American Hero.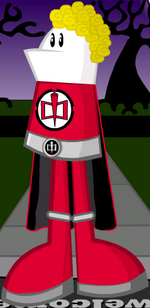 An even odder still...wait, should that be most odd? Whatever. This image also came up in my search for Greatest American Hero.
I have to stop now because that's just too damn funny.